Kalverstraat, Amsterdam
The Kalverstraat is the meeting place for half of Amsterdam. Its smart boutiques and perfumeries make it the city's best-known shopping street, although the P.C. Hooftstraat has overtaken it as "the" top address. First mentioned in 1393 it gets its name from the calf trade. There is no proof that cattle markets were actually held in this street, but cattle were certainly driven through the Kalverstraat to the calf market which in the 16th C. took place on the Dam.
Important Information:
Transit:
Tram: 1, 2, 4, 5, 9, 16, 24, 25.
Needless to say, the first businesses to settle in the Kalverstraat were the butchers, later followed by craftsmen, including cobblers and basket makers. In the mid-18th C. there were already more than 200 shops of all kinds here, as well as coffee shops and boarding houses. Nowadays the Kalverstraat is a pedestrian precinct and attracts up to 100,000 shoppers a day. On Saturdays the crush is frightening. It can take at least half an hour to walk from the Munt to the Dam instead of the usual 10minutes - that is if you manage to get there at all and are not swept along by the crowd in quite a different direction.
Related Attractions
Madame Tussaud's Panopticum
The only Madame Tussaud's outside London was opened in 1970 at 156 Kalverstraat. Besides contemporary personalities such as Queen Beatrix, Margaret Thatcher and François Mitterand, there are also historic wax figures like Napoleon and Peter the Great. A whole room is given over to Rembrandt, and in another it is possible to stroll round Hieronymus Bosch's Garden of Delights. The workroom where the wax figures are made is also on view.
Map of Amsterdam Attractions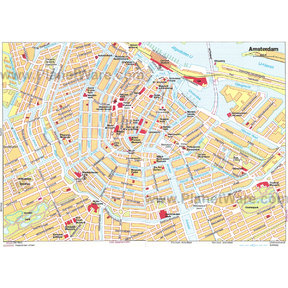 Amsterdam Map
More Amsterdam Attractions