Diamond Industry, Amsterdam
For many people Amsterdam is not only a gem of a city but the city of gems, in which diamonds have been cut and traded for many centuries. The city's diamond industry came into being in the 16th century. The exact date of its establishment is taken to be 1586, so that Amsterdam was able some years ago to celebrate its 400th anniversary as the city of diamonds.
The development of the industry was promoted by refugees, including many diamond- cutters, from what is now Belgium who left home to escape religious persecution and settled in the Netherlands. Later periods brought both prosperity and setbacks. Around 1750 there were only some 600 craftsmen employed in the trade, but the discovery of diamonds in South America, particularly in Brazil, led to a great upsurge of activity, and when diamonds were found in South Africa in 1867, and thereafter were mostly cut in Amsterdam, the city developed into one of the world's leading centers of the diamond trade. Appropriately, therefore, the first diamond exhibition in the world was held in Amsterdam in 1936. During the Second World War the city's diamond industry declined. Tens of thousands of Amsterdam Jews, including 2000 diamond-cutters, were deported and died in concentration camps. Amsterdam now has about a dozen of diamond-cutting establishments and more than 60 firms engaged in the diamond trade. Now as in the past the description "cut in Amsterdam" is a guarantee of high quality and craftsmanship. One of the world's 19 diamond exchanges (four of which are in Antwerp) is in Amsterdam. The diamond (from Greek adamas, "unconquerable") is one of the world's most valuable precious stones, notable for its extreme hardness. It consists of pure carbon in crystallized form (usually octahedral or dodecahedral, more rarely cube-shaped). Diamonds are found in kimberlite, an eruptive rock forming pipe-like intrusions (worked to a depth of 2,000m/6,500ft) and in alluvial deposits and river gravels. The most productive sites are in Africa (Zaire, South Africa, Ghana, Sierra Leone, Namibia, Botswana, Tanzania, Liberia, Central Africa, Ivory Coast, Angola), Australia (third place among diamond-producing countries in 1989), Russia (Urals), South America (Venezuela, Brazil, Guyana), Indonesia and the East Indies. More than three-quarters of all diamonds produced are used for industrial purposes (in earth drills, stone saws and glass cutters; for drilling, grinding and polishing metals and synthetics; as sensors in precision engineering equipment, phonographic styluses, hardness testers, wire-drawing dies, etc.). Since 1955 it has been possible to produce synthetic industrial diamonds under extremely high pressures and at very high temperatures.The value of a gem diamond depends not only on its cutting but also on its color, its degree of clarity (purity) and its weight. These four criteria - cut, color, clarity and carat weight - are known as the "four Cs". Of the types of cut illustrated above the most popular is the brilliant cut. As a result cut diamonds are commonly referred to as brilliants, though strictly speaking this term should be applied only to diamonds which have the full brilliant cut with 58 facets. The marquise (navette), oval, emerald, pear-shaped and heart-shaped cuts also have 58 facets. Other types of cut are the baguette (24 facets), the octahedron (16 facets) and the carrG (a square cut). The facets are the surfaces created by cutting, which must be at certain angles to one another in order to obtain the maximum refraction of light ("sparkle" or "fire"). The largest (horizontal) facet is called the "table". The following shades of color are distinguished:River: pure white ("blue-white")Top Wesselton: fine whiteWesselton: whiteTop crystal: slightly tinted whiteCrystal: tinted whiteTop Cape: distinctly tinted white, slightly yellowishCape (light yellow): yellowishMost highly valued are "fancy" diamonds in pure strong colors such as yellow, brandy-brown, pink, green and blue. Internally flawless (under magnification), with no inclusions (impurities) VVSI (very, very small inclusions) VSI (very small inclusions) SI (small inclusions) I PiquG (distinct inclusions) II PiquG (larger inclusions) III PiquG (coarse inclusions) The weight of a diamond is measured in carats (1 ct = 0.2 gram). The word carat originally came from Arabic and meant the dried carob seed formerly used in weighing diamonds in India and gold in Africa. The word was taken into international use through Dutch as a measure of the weight of diamonds (and also of the purity of gold).
Related Attractions
Famous Diamonds
The largest brilliant is the Cullinan I diamond (530 carats) in the British crown; it was part of the largest rough diamond ever found (the Cullinan, 3,106 carats), which was divided into 105 parts. The second largest brilliant is the Centenary diamond (rough 599 carats, cut 350 carats), found in a mine near Pretoria in 1986. Other well-known large diamonds are the Excelsior (rough 955 carats, divided into 22 brilliants), the Jonker (rough 726 carats, divided into 12 brilliants), the Nizam of Hyderabad (cut 340 carats), the Great Mogul (cut 280 carats), the Jubilee (rough 651 carats, cut 245 carats), the Star of Yakutia (232 carats), the Orloff (cut 200 carats), the Victoria (rough 469 carats, cut 184 carats), the Koh-i-Noor ("Mountain of Light"; rough 191 carats, cut 186 carats), the Regent (rough 410 carats, cut 140 carats) and the Florentine (137 carats).
Diamond Establishments
The five largest diamond-cutting establishments in Amsterdam have combined to form the Amsterdam Diamond Foundation. They organize guided tours, demonstrations of diamond-cutting and video/film presentations for individual visitors and groups. An appointment for a guided tour should be made in good time prior to the visit.
Gassan Diamonds
Being a member of the Diamond Foundation Amsterdam, Gassan Diamonds offers free tours of the factory.
Coster Diamonds
Coster Diamonds.Visitors can see demostrations of diamonds being cut.
Diamond Center B.V.
The Amsterdam Diamond Center is the largest jeweller in Holland.
Van Moppes Diamonds
Amsterdam's oldest diamond polishing factory. Diamond cutting demonstrations available.
Map of Amsterdam Attractions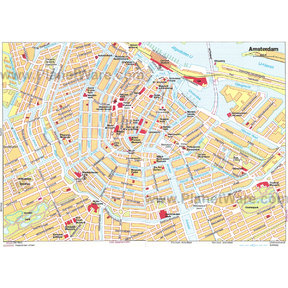 Amsterdam Map
More Amsterdam Attractions