Pharos, Alexandria
The tongue of land between the eastern and western harbors developed out of the ancient causeway known as the Heptastadion which led out to the island of Pharos, site of the famous Lighthouse which was one of the Seven Wonders of the World. On this are the picturesque Arab and Turkish Quarters.
Related Attractions
Abu el-Abbas el-Mursi Mosque
Mosque of Ibrahim Terbana
A notable building to be seen here is the Mosque of Ibrahim Terbana (1648), which incorporates Graeco-Roman columns.
Fort Qaitbay
At the northern tip of Pharos, on the site of the ancient Lighthouse (finally destroyed by two earthquakes in the 14th C.), is the 15th C. Fort Qaitbay, which houses a small naval Museum.
Hydrobiological Museum
A short distance southwest from Fort Qaitbay is the Hydrobiological Museum, with an Aquarium.
Ras el-Tin Palace
At the northwest end of the Pharos Peninsula is the sumptuous Ras el-Tin Palace (Ras el-Tin="Cape of Figs"), which in the time of Mohammed Ali was the royal summer residence and now houses a museum.
Anfushi Necropolis
East of the palace is the Greek Anfushi Necropolis, which dates from the Ptolemaic period (second centutry B.C.).
Map of Alexandria Attractions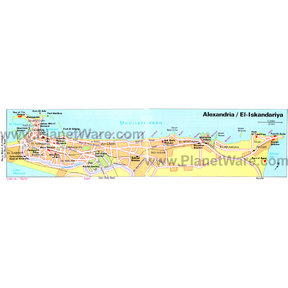 Alexandria Map
More Alexandria Attractions
Popular Destinations Nearby