St Savior's Cathedral, Aix-en-Provence
Cathédrale St Sauveur
In Aix-en-Provence, in Rue J. De la Roque, in the north of the Old Town, stands the Cathédrale St-Sauveur (St Savior's Cathedral). It was built in various stages from the 12th to 17th century, and dedicated in 1534.
St Savior's Cathedral Map
Important Information:
Address:
Rue Gaston-de-Saporta, F-13100 Aix-en-Provence, France
Opening hours:
7:30am-12pm, 2pm-6pm
St Savior's Cathedral Highlights
Doorway
In the 15th-16th century Gothic doorway of St Savior's Cathedral in Aix, where the stone figures were severely damaged during the French Revolution, hang beautiful walnut doors carved mainly between 1508 and 1510 by Jean Guiramand; these are normally concealed behind protective shutters, which the sacristan will open on request. The lower part of the doors already reveals elements of the Early Renaissance.
Interior
The cathedral in Aix-en-Provence is entered through a Romanesque doorway, to the right of the Gothic part of the facade. On the right is an Early Christian Baptistry, dating from the sixth century and renovated in 1577, with a fourth century font. On the right of the main nave can be seen the triptych "Mary in the Burning Thorn Bush" by Nicolas Froment (1435-84); in the left wing will be found a portrayal of "Good King René" (1434-80). In the central nave and south aisle hang Flemish tapestries from 1511 representing the Passion and the story of the Virgin, with likenesses of English courtesans.Behind the High Altar lies the Chapelle de St- Mitre, dedicated to the patron of the town, whose tomb can be found in the first chapel on the right. There is a small Romanesque cloister adjoining the church on the south wall.
St Savior's Cathedral Pictures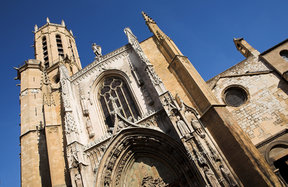 Map of Aix-en-Provence Attractions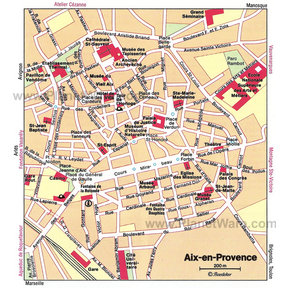 Aix-en-Provence Map
More Aix-en-Provence Attractions
Popular Destinations Nearby