Island of Vulcano
CommunicationsShipping links with Milazzo and Naples; hydrofoil to Milazzo.Location and importanceVulcano, the southernmost of the Aeolian Islands, is separated from its larger neighboring island of Lipari by a channel scarcely 1km/1,100yd wide, the Bocche di Vulcano. In ancient times the island was known as Hiera Hephaistou (Sanctuary of Hephaistos) as well as Therasia and Thermesa, and was the home of Aiolos, the Master of the Winds. Today it is as a popular holiday resort because of its bathing beaches and, above all, its volcanic phenomena.
Related Attractions
Vulcano - Extinct Volcanoes
The bulk of Vulcano is taken up by the volcanoes Gran Cratere (391m/1,283ft high), Monte Saraceno (481m/1,579ft) and Monte Aria (499m/1,638ft). While the two last-named became extinct early on, Gran Cratere erupted in 1889-90. Today it is at the solfatara stage, and in the Piano della Grande Fumarole on its southern slope in particular there are hot sulfur vapors and clouds. Since prospectors have drilled here for natural gas since 1950 there has been a continuous hissing jet of vapor issuing from the pumps. Between Gran Cratere and Monte Aria in the east and Monte Saraceno in the west stretches a green plain slashed by deep valleys and with fresh-water springs.
Vulcanello
Back in history, in 183 B.C., the small volcanic island of Vulcanello (123m/404ft) rose out of the sea to the north; it became extinct in the 19th century. It is linked to the main island by a narrow isthmus, to the sides of which lie the harbors of Porto di Ponente, in the west, and Porto di Levante in the east, the latter with landing-stages for ships, and both with tourist facilities. The main beach of fine lava sand is 500m/550yds long and lies in the west harbor; near the east harbor are a thermal basin and the thermal springs known as "acqua di bagno".A road 8km/5mi long through the island leads to Monte Aria. It is also worthwhile climbing Gran Cratere with its sulfur vapors (one hour) and walking to Vulcanello (half an hour).Boat trips can also be recommended, such as that to the Grotta del Cavallo in the west.
Map of Messina Attractions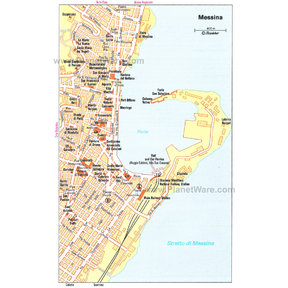 Messina Map
More Messina, Italy Attractions
Popular Destinations Nearby