Old Town, Aberdeen
The area north of King's College is known as Old Aberdeen and includes the University, founded in 1494. Several interesting medieval buildings are found in the vicinity of the High Street, most being situated between the Old Town and St Machar's.Up until the last century, medieval Old Aberdeen in the area around St Machar's Cathedral had its own market charter. Today it has a host of protected buildings, the oldest of which dates from the 16th century and the quarter has become a popular meeting place for students who frequent the pubs and restaurants near the university.
Related Attractions
St Machar's Cathedral
St. Machar's Cathedral is believed to occupy the site of a small Celtic chapel erected by St Machar in 581. The cathedral which succeeded it was founded in 1136, although the earliest work in the present building dates only from the 14th century. The present building was begun in 1378 and completed in 1552. Note especially the striking towers on the West front, with sandstone spires dating from 1518-30; also the 16th century wooden ceiling painted with coats of arms.
King's College
The Catholic King's College in the High Street received its charter from King James IV. This seat of learning was founded in 1495 by Bishop William Elphinstone. Union with the Protestant Marischal College followed in 1860. The latter was a center for the natural sciences, while the former was an arts stronghold. One of the college's identifying features is its huge tower (1633) and an elegant stone dome. Apart from St Giles, it is the only remaining dome of its kind in Scotland. A stone replica of the imperial crown of Charlemagne sits on top of the dome. The oak choir stalls and the wooden ceiling in the chapel (ca. 1505) are preserved in their original form. Portraits of the Stuart monarchs, similar to those around the Mercat Cross, can be seen here, but they are carved out of wood.
University
The University, founded in 1494, is located in the area north of King's College, known as Old Aberdeen.
Old Town House
At the end of High Street stands the Georgian Old Town House (1788). It now houses a branch library.
Cruickshank Botanic Gardens
Follow the Chanonry to the botanical gardens on the left. Among the plants on display are some interesting alpine and sub-tropical collections. There is also an arboretum and a delightful water garden.
Seaton Park Brig o'Balgownie
A walk through Seaton Park down to Brig o'Balgownie is well worth the effort. This bridge, the oldest in Scotland, was built on the orders of Robert Bruce and was restored in 1607. From 1329 and for the next 500 years, it served as the Don's main crossing point. Lord Byron, who went to school in Aberdeen for a short time, referred affectionately to the single span bridge in the 10th chapter of his "Don Juan".
Map of Aberdeen Attractions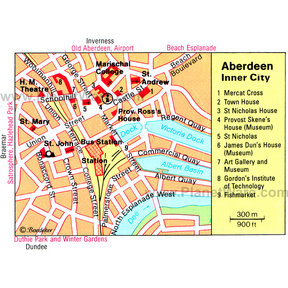 Aberdeen Map
More Aberdeen, Scotland Attractions
Popular Destinations Nearby